MBI welcomes August 2021 intake of new graduate students
MBI is thrilled to welcome the latest intake of 13 incoming graduate students this August. Their induction marks the 1st batch of graduate students that MBI is accepting in the 2021/2022 academic year.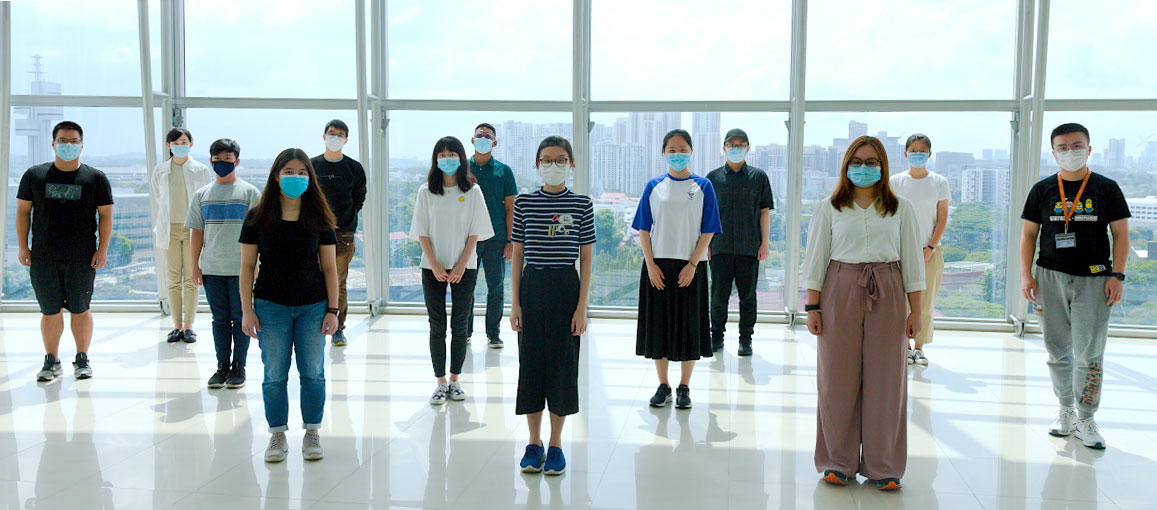 Front row (L-R): Ang Jing Wen, Kwang Leng Gek, Nicole Lee
Middle row (L-R): Huang Zengxin, Ng Boon Heng, Guo Yanyu, Li Yixuan, Cui Hongyue
Back row (L-R): Xu Mengqing, Kuo Xuan, Muhammed Faris Hazwan Bin Ramli, Shu Chang, Chen Dixiao
The new additions comprise 13 local and international students: Muhammad Faris Hazwan Bin Ramli, Kuo Xuan, Kwang Leng Gek, Ng Boon Heng, Lee Jia Wen Nicole and Ang Jing Wen from Singapore, and Xu Mengqing, Shu Chang, Guo Yanyu, Cui Hongyue, Li Yixuan, Chen Dixiao and Huang Zengxin from China. They will be joining MBI's PhD Programme in Mechanobiology, which focuses on training students in interdisciplinary research, supported by a highly-integrated team approach to making scientific discoveries and cutting-edge facilities.
To welcome the new graduate students and introduce them to the other graduate students in MBI, the Graduate Students Club of the MBI Young Scientist Group recently hosted a virtual ice-breaking session on Zoom. The students officially started their PhD journey at MBI with a mini-symposium where they were introduced to the programme structure and got to meet and learn about the specific research of each MBI Principal Investigator. They will be commencing their lab rotations soon, so if you see them around, please give them a warm reception!